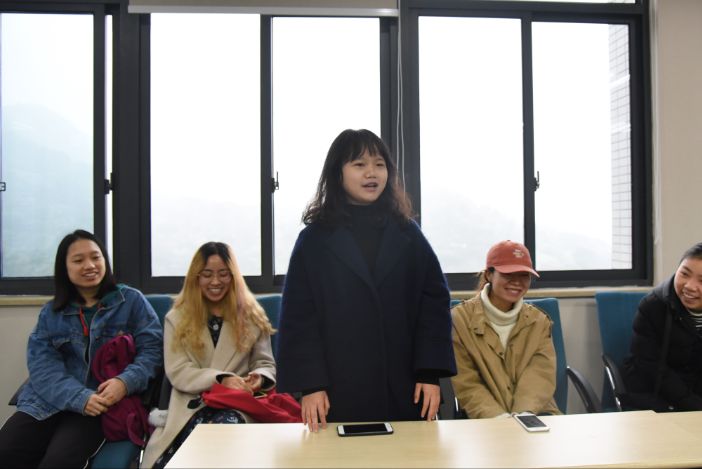 Being an exchange student in high school was one of the most memorable experiences of my life. It was a rollercoaster ride filled with laughter, cultural exploration, and personal growth.
高中交换生是我一生中最难忘的经历之一。这是一次过山车之旅,充满了欢笑、文化探索和个人成长。

As soon as I arrived at my host school, I was warmly welcomed by my host family and classmates. They were curious about my country and eager to share their own culture with me. It was fascinating to see how our different backgrounds shaped our perspectives and traditions.
我一到寄宿学校,就受到了寄宿家庭和同学的热烈欢迎。他们对我的国家很好奇,并渴望与我分享他们自己的文化。看到我们不同的背景如何塑造我们的观点和传统,真是令人着迷。


Communication was initially a challenge since English was not my first language. However, my classmates were patient and understanding, often helping me with vocabulary and pronunciation. In return, I introduced them to some fun phrases in my native language, which always resulted in laughter and amusement.
沟通最初是一个挑战,因为英语不是我的第一语言。然而,我的同学很有耐心和理解力,经常帮助我词汇和发音。作为回报,我用我的母语向他们介绍了一些有趣的短语,这些短语总是带来笑声和娱乐。

One of the most exciting parts of being an exchange student was attending school events. I had the opportunity to participate in traditional American activities such as prom and homecoming. It was a chance to not only immerse myself in the local culture but also to showcase my own traditions. I even taught my friends how to dance to a popular song from my country, and we ended up performing it at a school talent show!
作为交换生最令人兴奋的部分之一是参加学校活动。我有机会参加了美国的传统活动,如舞会和返校。这是一个机会,不仅可以让自己沉浸在当地文化中,还可以展示自己的传统。我甚至教我的朋友如何随着我国的一首流行歌曲跳舞,我们最终在学校的才艺表演中表演了它!

Living with a host family was a unique experience as well. I learned about their daily routines, tried new dishes, and even picked up some cooking skills. They treated me like a member of their family, and I will forever be grateful for their love and support.
与寄宿家庭住在一起也是一次独特的经历。我了解了他们的日常生活,尝试了新菜肴,甚至掌握了一些烹饪技巧。他们像对待家人一样对待我,我将永远感谢他们的爱和支持。

Not only did I learn about American culture, but I also had the opportunity to share my own culture with my classmates and teachers. I gave presentations about my country, prepared traditional dishes for cultural events, and organized a language exchange program to teach basic phrases in my native language. It was rewarding to see my peers' genuine interest in learning about my culture.
我不仅了解了美国文化,还有机会与同学和老师分享自己的文化。我介绍了我的国家,为文化活动准备了传统菜肴,并组织了一个语言交流计划,用我的母语教授基本短语。看到我的同龄人对了解我的文化的真正兴趣,我感到很欣慰。

Throughout my exchange program, I made friends from all around the world. We bonded over our shared experiences, supported each other through homesickness, and explored the local attractions together. These friendships have lasted beyond our exchange year, and we continue to keep in touch and even plan reunions.
在我的交流项目中,我结交了来自世界各地的朋友。我们因共同的经历而联系在一起,在乡愁中相互支持,并一起探索当地的景点。这些友谊已经持续到我们的交流年之后,我们继续保持联系,甚至计划重聚。

Being an exchange student not only broadened my horizons but also helped me become more independent and adaptable. I learned to embrace new challenges, step out of my comfort zone, and appreciate the beauty of diversity. It was a transformative experience that shaped me into the person I am today.
作为交换生,不仅拓宽了我的视野,还帮助我变得更加独立和适应能力强。我学会了接受新的挑战,走出自己的舒适区,欣赏多样性的美丽。这是一次变革性的经历,将我塑造成今天的我。

In conclusion, my time as an exchange student in high school was filled with laughter, cultural exchange, and lifelong friendships. It allowed me to learn about different cultures, improve my language skills, and create cherished memories. I would highly recommend the exchange program to anyone seeking personal growth and unforgettable experiences.
总之,我在高中作为交换生的时光充满了欢笑、文化交流和终生的友谊。它让我了解了不同的文化,提高了我的语言技能,并创造了珍贵的回忆。我强烈推荐交流计划给任何寻求个人成长和难忘经历的人。